HAVEN-1 High Altitude Balloon Launch
Nearly two years after MIT's Project Icarus launch on September 2, 2009 captured our imagination, the HAVEN project (High Altitude Ventures) finally achieved lift-off of its maiden flight: HAVEN-1.
We are happy to report that on Saturday, July 23rd, 2011, HAVEN-1 successfully lifted off from Spaceport Lucknow, ON - journeyed to an altitude of ~32km above the earth - and then safely landed a few kilometers east of Listowel, ON.
Objectives
To successfully launch and recover a high-altitude "near-space" balloon.
To capture gorgeous photos illustrating the curvature of the earth and the beauty of our atmosphere as it fades to black.
To "Keep It Simple Stupid" for our first flight attempt.
Photos
Photos from the mission (as well as some prior testing) are presently available via: HAVEN-1 Photos.
Flight Path
The complete predicted and actual flight paths were mapped from the GPS coordinates provided to us within our APRS packets. They have been mapped out and made available via Google Earth. Click here to download.
More Information
For more information, please feel free to contact us with your questions!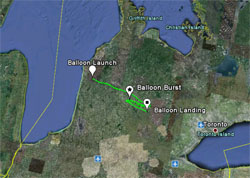 Special Thanks
Very special thank you's go out to:
The entire HAVEN-1 team for making our first launch and recovery a resounding success.
Ritchie Electric
The #highaltitude gang on Freenode IRC